ASP Rope Access
Rope Access Solutions
Since 1999 ASP Rope Access has been servicing the onshore and offshore sectors, with a history of service excellence and professionalism.
The last decade has seen ASP Rope Access develop into one of South Africa's leading Rope Access companies, managing and operating projects both nationally and internationally.
Our experience in the Offshore Oil & Gas, Petrochemical, Construction, Commerce, Telecommunications, Power, Shipping and Ports industries has proven invaluable for maintenance, structural repairs, fabrication and inspection works that is required on a multitude of work sites or production platforms, in areas otherwise complicated by height or position. All of which will benefit from the use of Rope Access techniques.
ASP Rope Access performs a wide range of NDT and DT inspections inclusive of a fully comprehensive report at the close of each inspection.
ASP is certified and accredited by the following classes for inspection services worldwide: American Bureau of Shipping, Bureau Veritas, Det Norske Veritas, Lloyd's Register of Shipping, RINA & Nippon Kaiji Kyokai.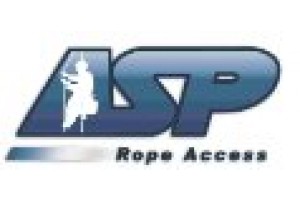 Website:
Visit ASP Rope Access's website