AlpAccess SRL
Rope Access Services.
Our company was founded in 2003 in Ploiesti, in order to provide high quality rope in industry where it perform blasting, painting and other services.  From the beginning we invested in equipment and staff training to increase the safety and quality.  Our team of professionals with a combined experience of over 30 years in the rope.  I worked first as a team of climbers in collaboration with various companies in the country and decided to establish a new society with young exciting companies from the rest of the market by quality, safety and working conditions.
Rope - why?
The speed work: beginning work and travel time required between sections is considerably less rope than necessary for the installation or dismantling of scaffolds and their transport between segments objectives.
The wide range of works: climbers can work in difficult conditions in terms of space to maneuver or blocks the installation of scaffolding would be impossible.  Also, due to the nature of work in the chord, the team can offer their services regardless of the height of the lens.
Total costs low: the rope compared to alternative solutions based on the use of metal scaffolding or cumbersome and expensive nacelles crash that blocks or narrows temporary access routes.
Safety: rope access used correctly will IRATA standard with two ropes secured independently is a means of access and working at height safer faster than traditional ladders and scaffolding of wood or metal, fixed or mobile.

Rope AlpAccess
Mobility: depending on your team needs to AlpAccess rope - rope can travel throughout Romania and beyond.
Free Ratings: risk assessment and cost is free by specialists AlpAccess - rope.
Warranty contract: for the works taken completely (services + material purchased AlpAccess - rope).
Fast and professionalism: team of sc AlpAccess rope - rope, perform work within the terms and conditions imposed by clients.
Quality and safety: AlpAccess - rope has implemented and certified quality management system ISO9001: 2008 and OHSAS18001 occupational safety standard for environmental management standard ISO14001.  We are also affiliated to IRATA - Industrial Rope Access Trade Association and Sprat - Society of Professional Rope Access Technicians.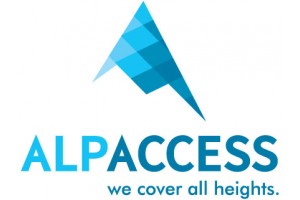 Website:
Visit AlpAccess SRL's website